AIE: introduction
AIE resources illustrate the relevance of ancient Athenian inscriptions, especially those of the classical period (the fifth and fourth centuries BC, c. 500-300 BC), to pre-18 education in the UK and beyond. We aim to support teachers who wish to introduce inscriptions into their teaching as a way of captivating their students' imagination and fostering enthusiasm for the ancient Greek world.
These resources, consisting of teachers' notes and slides for classes, underline the textual and visual potential of inscriptions for those engaged with learning about ancient Greek history and civilisation. The idea of an inscription being carved and read "in real life" is a way of fostering the curiosity of students about the past. Accordingly, through inscriptions, learners benefit from the bringing to life of the ancient world, perhaps in a way that helps it seem less abstract and initially less complicated. At the same time, we hope that introducing students at pre-18 level to inscriptions will encourage them to explore ancient source material of their own accord, and will help them to 'bridge the gap' into University study if they chose to pursue it. On this page in our Introduction to AIE for Teachers resource you will find more ideas about using inscriptions in the classroom. We also offer a set of slides which introduce learners of all ages to Greek inscriptions: see Introduction to ancient Athenian inscriptions.
In particular, our resources address the UK educational syllabus at primary school Key Stages 1 and 2 (6-11 years), secondary school Key Stage 3 (12-14 years) and the more specialist studies available in schools and Further Education institutions which offer Classical Civilisation or Ancient History at Key Stages 4 (= GCSE; 15-16 years) and 5 (= A-level: 17-18 years). AIE resources are organised into 6 sections along these lines (see below). We have created resources designed to support visitors to specific collections at the Ashmolean and British Museum, which are available on request (peter.liddel@manchester.ac.uk) and will shortly be available direct from the Museum websites.
The material we deploy in these resources focusses primarily upon ancient Athenian inscriptions in UK collections (gathered in the AIUK project); some of this material, especially that at the bigger museums and National Trust properties, is available for inspection or on display. As we write this in early 2021, we hope that visits and trips to these collections might sooner or later be a possibility again.
In cases where we make reference to published editions of the inscriptions as part of AIUK, we refer the reader to the relevant volume of Attic Inscriptions in UK Collections. However, where we have not yet published this inscription, we refer to their publication in the relevant volume of Inscriptiones Graecae (IG). Translations of these can be found on the Attic Inscriptions Online website via the Browse function. A guide to the use of AIO in teaching can be found in AIO Papers 10.
In the case of inscriptions at the British Museum, we give reference also to their BM accession number (e.g. 1863,0516.1): these accession numbers will allow you to locate the inscription on their website. Further information and images about these inscriptions can be found through the BM Collections Online website.
Acknowledgements:
We are also grateful to schoolteachers who commented on the materials (especially Simon Costello, Sophie Evans, Liam Holian, Sarah Holliday, Esther Hyde, Katherine Mawford, Athena Mitropoulos, Karen Stears, Anne Wright) and to those who participated in the online CPD event in June 2021. We would like to acknowledge the help and support of the British Museum curators, Peter Higgs and Alexandra Villing for their helpful collaboration and to Celeste Farge and Alex Truscott for facilitating autopsy of the stones. Finally, we should acknowledge the support of the Arts and Humanities Research Board.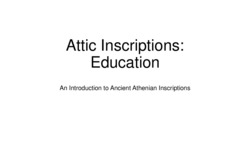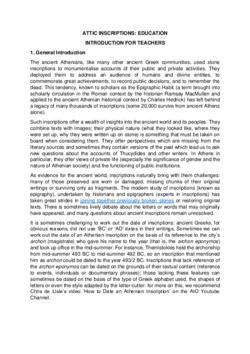 AIE sections:
GCSE Classical Civilisation resources
GCSE Ancient History resources
A-Level Classical Civilisation resources